Cloud Servers For Your Business's Digital Marketing
At DMMBlitz our managed cloud hosting solution uses only the very latest world-class infrastructure from the top three cloud providers globally. Microsoft's Azure, AWS (Amazon Web Services) and the Google Cloud.
Our primary hosting servers are UK located, however with the nature of using cloud infrastructure, should your business require servers for online marketing to be physically located in other regions globally we can deploy new server instances worldwide and have them optimised and ready for a production workload without issue.
The potential drawbacks of using non-redundant off-cloud alternative hosting can include, the SLA (Service Level Agreement) not being adhered to, we've seen service levels around the 50% mark and lower before. Websites disappearing from the host, website backups disappearing along with the websites themselves, entire servers disappearing, hardware failures, slow and overloaded servers, non-functional servers due to unplanned maintenance, down time for hardware upgrades with no notification, customer & tech support responses in some cases taking weeks, if any response is received at all.
Any of the above is obviously completely unacceptable for your business's internet marketing presence. But, over the years we've seen it all, which is why our certified network specialists developed our in-house cloud hosting solution spanning the top three global cloud providers. Which is available subject to approval for clients of some of the digital marketing services we offer.
Our managed cloud service is strictly for DMMBlitz digital marketing agency clients only, the private high performance solution is designed to offer our clients the best possible performance for their online marketing presence. The cloud hosting service is offered depending on the level of online marketing we are providing to your business.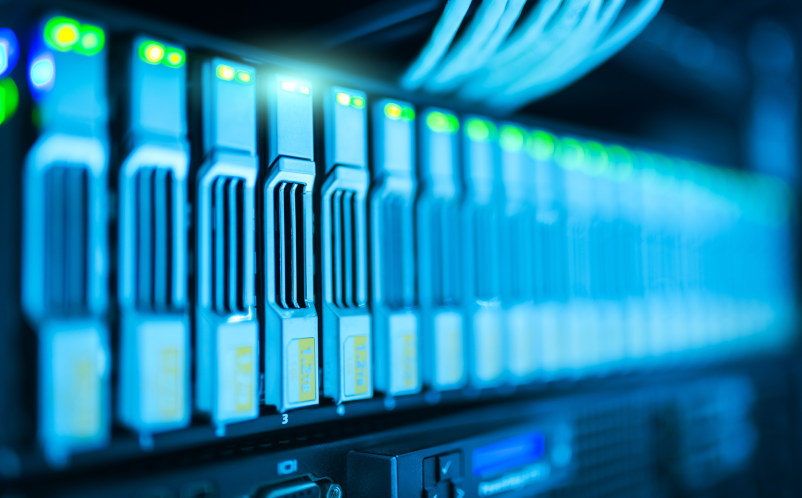 Three Cloud Solution
Complete Data Redundancy
Fully Secured
High Availability 99.99% SLA
Our cloud solutions primary servers are located on Microsoft Azures cloud infrastructure but we also maintain redundancy and data integrity on Amazon Web Services (AWS) and the Google Cloud platform.
If your business is interested in having your internet marketing solution and website hosted on our managed cloud hosting and you're also planning on using one of our other digital marketing services contact us now for the best available rates, we have multiple packages and tiers available for all services to meet most businesses requirements. If you would like further information on the cloud solution we provide read on for more details.
The cloud hosting solution is mainly intended for customers of our website design agency service, although dependent on the level of the digital marketing service your business is receiving it is made available to other clients.
Our infrastructure is completely scalable at the click of a button. If your business decides to invest heavily in marketing or finds a product or service that causes a huge increase in demand for server resources we are able to scale server deployment resources to meet demand instantly.
All servers run custom high performance cloud server kernels which squeeze the maximum possible performance and stability out of the assigned hardware resources, achieving the fastest site load speeds around which will keep both your visitors and search engine ranking engine algorithms happy.
Hardware and software firewalls protect all server instances providing several layers of protection. Running behind these firewalls we also run an intrusion prevention software framework that protects the servers from brute-force attacks and spots patterns in authentication failures and other abuse which dynamically adjusts software firewall rules to block this traffic.
All servers are DDOS and DOS attack protected as standard using Azure's infrastructure protection, with the scale and capacity of Microsoft's global Azure network, servers are given defence against network-layer attacks through always-on traffic monitoring and real-time mitigation systems.
Website and email hosting server redundancy is enabled with geographic failover. This means that the server hosting your website, data, email, etc is automatically replicated to a second physical geographic region, to ensure business continuity in the event of any kind of outage in the servers current location and region. Periodic disaster recovery drills take place on the server infrastructure to ensure that if required, geographic failover will take place seamlessly offering your business the highest availability for your digital marketing presence possible.
On top of server failover our data backup redundancy takes on several forms. At any given time there are no fewer than eight heavily encrypted copies of data present and able to restore any lost data in live instances. The data is zone redundant with three copies being stored in separate data center zones, data is also geo-redundant meaning that it's also kept in three different geographic regions. Finally, data is cloud redundant too as we store copies on separate cloud providers infrastructure with a +10yrs expiry. Short of an extinction level event, your data is safe with us.
Website and eMail security is maintained using SSL (Secure Socket Layer) connections as standard on all websites and email domains hosted to provide you and your business's customers with secured website and email connections.
Our email servers use at minimum Transport Layer Security (TLS) connections. We use DomainKeys Identified Mail (DKIM) signatures and Sender Policy Framework (SPF) DNS records with strict Domain-based Message Authentication, Reporting and Conformance (DMARC) sending and receiving policies to ensure smooth delivery and a SPAM free inbox. Industry standard virus scanning is enabled, with virus signatures updated multiple times per day to ensure virus free email delivery.
The cloud servers Domain Name Servers (DNS) use DNSSEC to protect your domain's integrity using digital signatures to cryptographically sign DNS records for your company's domain on our name servers and authenticate the chain of trust which validates DNS security. TLSA (TLS Authentication) is also enabled, adding an additional DNS fingerprint using your business's primary domain SSL certificate.
All virtual or physical disk drives our solution uses within the cloud are encrypted with the minimum of a 256-bit AES block cipher, the same is true for any sensitive customer data stored offline, this may however be in the form of drive, container or folder encryption.
All sensitive logins related to our cloud infrastructure are protected with a 2-step time based one time passcodes (TOTP) meaning that if somehow any related securely stored passwords and encryption keys are somehow breached, a one time passcode and other additional security check are still required to gain access, making the resource completely secure.
A world-class server monitoring solution is deployed on all servers, with 24/7 server and process telemetry and log data being ingested into a secure cloud with 5 minute granularity for key metrics and 180 day data retention so in the event of any anomalies with the infrastructure we're able to see exactly what caused the issue and mitigate it as quickly as possible.
Our managed cloud hosting service is provided mainly for our website design agency clients, we do however offer this service to other clients depending on the level of the digital marketing services being provided.
DMMBlitz's high perfomance cloud solution is ready to host your business's online content. If you would like your online marketing presence hosted with us please contact us as we still have space available with multiple tiers dependent on requirements.
We're interested in talking
about digital marketing for your business.